Novamont in Italy
Our network of production and research facilities in Italy
We are a company that has its roots in local areas. Using leading-edge technologies deriving from our research, we have converted sites that are no longer competitive, transforming them into innovative research centres and industrial plants. Our products are the result of the combination of these advanced proprietary technologies and our
bioeconomy model
, based on integrated biorefineries and territorial regeneration.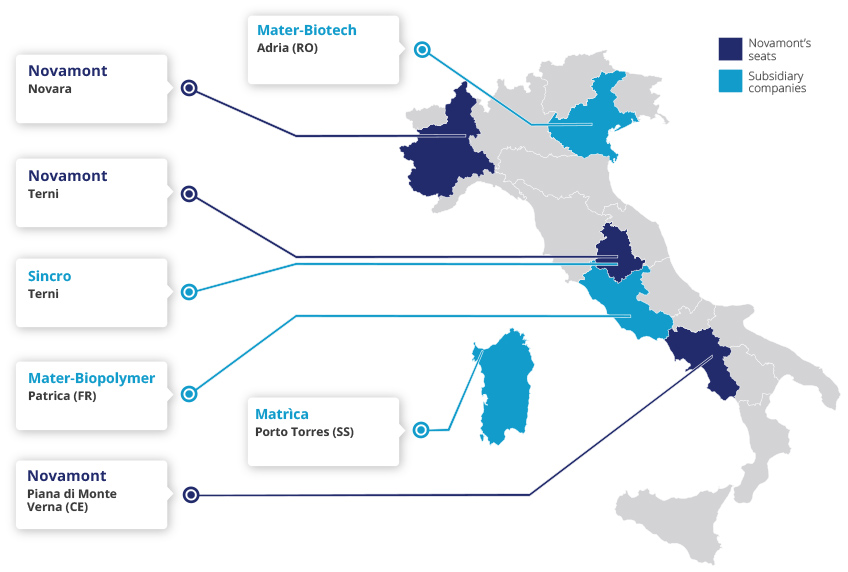 Novara
Novara hosts our headquarters and research laboratories, covering a wide selection of skills and specializations, with equipment and facilities ranging from laboratory scale to innovative pilot plants.
Contacts
Terni
Terni hosts our Mater-Bi production plant and process engineering and quality control laboratories. It has expertise in the fields of compounding technologies, oil treatment and polymer synthesis at a pilot plant level.
Contacts
Piana di Monte Verna
The research center of Piana di Monte Verna is specialized in the development of industrial biotechnologies. Acquired in 2012 by Novamont, it is the result of the reconversion of a decommissioned research center of excellence.
Contacts
Sincro
Sincro is a 50:50 joint venture set up in 2006 with Coldiretti, a major Italian Farmers' Union, to develop the production of chemical intermediates and biolubricants from renewable resources. In cooperation with local farmers, Sincro develops experimental fields and agronomic protocols in support of the integrated biorefinery.
Matrìca
Matrìca is the company set up in 2011 from the 50:50 joint venture between Novamont and Versalis to reconvert a preexisting petrochemical site in Sardinia into a biorefinery integrated in the local area for the production biochemicals, building blocks for bioplastics, bases for lubricants, bioadditives for rubbers and plasticizers for polymers.
www.matrica.it
Mater-Biotech
Mater-Biotech is a company based in Adria, born in 2012 and 100% owned by Novamont. Mater-Biotech represents the world's first dedicated plant able to produce butanediol (BDO) directly from sugars, through fermentation processes.
Discover more
Mater-Biopolymer
Mater-Biopolymer is the company controlling the industrial site in Lazio, Patrica (FR). Novamont has acquired the 100% of the business in 2017. Mater-Biopolymer produces Origo-Bi biopolyesters through a line completely modified over the years using a proprietary Novamont technology. The company is also involved in the development of new biopolymers.